"It's not my decision," Farhad Moshiri told Sky Sports News when the Everton majority owner was asked whether manager Frank Lampard would be sacked following Saturday's 2-0 defeat at West Ham.
Everton have failed to win in 10 matches in all competitions and their ninth loss in 12 Premier League matches has left them second-bottom in the table.
During the loss at the London Stadium, Everton fans held up banners calling for the board to go but the result appears to have left Lampard in a perilous position, with club chairman Bill Kenwright describing it as a "bad run of results for us all and for Frank," when he spoke to Sky Sports News.
FREE TO WATCH: Highlights from West Ham's win against Everton in the Premier League.

Sky Sports News' Gary Cotterill: "Is it about time for Frank [to be sacked], do you think?"
Moshiri: "I can't comment. It's not my decision."
Sky Sports News' Gary Cotterill: "Is that it for Frank now? It's been a tough run of results."
Kenwright: "It's been a bad run of results for us all and for Frank, but I would never say that to you ever."
Sky Sports News' Gary Cotterill: "Things have to start changing pretty quickly don't they?"
Kenwright: "Yes, we have to start winning, don't we? It's a bad time."
Lampard: We have to keep working
Everton manager Frank Lampard says he believes he's still the right man to turn Everton's bad run of form around as the Toffees sit 19th in the Premier League table.

Frank Lampard's post-match interview with Sky Sports in full:
A tough and tense game, how do you reflect on that performance?
"We had a lot of the game, a lot of the possession for sure. The way West Ham play, they afford you the ball at times. We moved it pretty well. At times you can prepare to get into the final third and then in-game we have to be more clinical there. And we weren't. We missed some chances. We were there a lot without being dynamic enough. They had a couple of moments where they were dynamic and that changed the game."
You say you missed chances, how do you fix that going forward?
"Keep working. It's the only way I know. It's the type of player I was, that wanted to take chances, create chances and I only knew from working on the training ground, repetitive, going again and going again. But as a squad we have to do better than that because it changes the whole face of games. If you've got control in those periods, which we did today, you have to go and score. Then it gives you a feeling, a good feeling and you're in the game. If you don't – which has been our story a fair bit, particularly recently, the feeling is always there for the other team. And with a team like West Ham, who are built to be quick through the lines, vertical, some longer balls, good crosses, counter-attacks, people like [Jarrod] Bowen are well-renowned players in the league because they're clinical and they're fast and they're explosive and they score goals and we need to find our versions of that."
You heard the boos from the Everton fans at full-time, how difficult was that to hear?
"It's football. You can't expect Everton fans to travel down, support their team and be happy with a defeat. It's not a game where you can, in my opinion, criticise the lads' effort. When you have a lot of the game you can have a go at that – and that's the main thing, as an Evertonian, as a player, as a fan, I think that's what everyone has to want. But when you're in a tough time sometimes games don't go for you and you feel like little bits don't go for you, a possible penalty, a set piece goal, a counter-attack goal that gets deflected into the path… Everyone needs to keep trying to work to get that turn of the corner for us."
You've been in football a long time – do you still feel you're the right man to turn things around?
"Those things are not my choice, as such. It's my job to work and focus and keep my head down. I've got absolute confidence in how I want to coach. And if they are difficult conditions at the minute, for a lot of different reasons that I'm very aware of, then that's it. I just have to do my job and it's not for me to make too many diversions around it rather than talk about what I can affect and that's the players, trying to get the right results."
The board and the owner were in attendance today. How significant was that for you?
"Not at all. I think a lot has been made out of that the last week. I know there are issues around it, don't get me wrong. I'm not trying to close my ears to anything. But for me as a coach, it's never been significant. At Chelsea, the owner didn't come to many of my games for 18 months. Pretty much zero I think. Maybe a friendly. It's just about how you work, the actions you do, what you do every day, the support you feel, the communication, those sort of things."
Talking of support, what support are you getting from them at the moment, especially with all the noise around the fans at the moment?
"They communicate all the time, and I have done since I've been here. I don't always go into those communications, that's not my job to make public or hang on. You just have to keep working."
But you feel the support?
"It's the same answer, I'm going to give you the same answer. I'm going to keep working and try to do the best I can for the club."
Analysis: Lampard's eyes and body language belied bullish words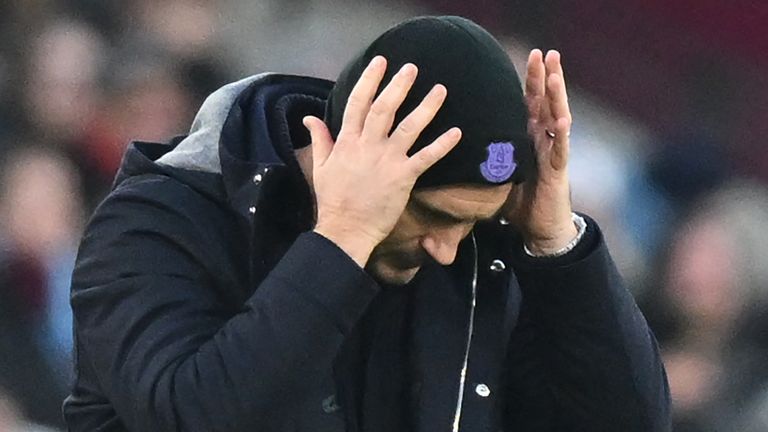 Sky Sports News' Gary Cotterill at the London Stadium:
"It took Frank Lampard the best part of an hour to emerge for his post-match news conference at the London Stadium, a full 28 minutes after David Moyes, the winner of the game dubbed "el-sackico", had vacated the room.
"Moyes had sympathy for Lampard. He knew, had things gone differently, it would be him facing questions about his future.
"When Lampard did eventually take his seat in front of the media, it was all eyes on his eyes. They spoke volumes.
"They, and his body language, belied the bullish words coming out of his mouth.
"'Yes', he said. He knew the owner, Farhad Moshiri, would be at the match. A rare appearance by him. His first game since October 2021. The first time he's seen Lampard's Everton live.
"'No', Lampard added. He hadn't spoken to the owner. And 'no' there is nothing to read into his presence. 'You can read what you want into it. It's not a relevant thing to me.'
"His lips said that. His eyes said something different.
"Outside the stadium, 50 minutes earlier, Moshiri's eyes also seemed to be telling a different story to his lips.
"He said to me it's not his decision whether Lampard is sacked. But he looked every inch an owner with a decision to make.
"And then Bill became the third of the of Everton hierarchy to speak out.
"His eyes too giving things away, even though he told me, hesitantly, that 'I could never say that', when asked if time was up for Lampard.
"Bill Kenwright's seen a lot at Everton over the years. Tonight he had the look of resignation.
"It's his resignation the fans want of course. His and the rest of the board.
"As they left East London, they were again calling for a regime change. Most had sympathy for Lampard, but few backed him to carry on.
"Everyone I asked expected him to go before Everton's next game, at home to Arsenal, in two weeks time.
"It was an unscientific vote, as darkness fell on the London Stadium. But to the question 'Should Lampard be sacked?' It was unanimous.
"And the eyes have it."
Merson: I definitely worry for Lampard now
Soccer Saturday's Paul Merson says he fears for Frank Lampard after Everton's 2-0 defeat to West Ham left them second-bottom in the table.

Sky Sports' Paul Merson on Soccer Saturday:
"I worry for them. They keep on losing to all the teams around them, that's the worry. They've lost to Wolves, Southampton and West Ham in three of their last five games. They've got to go through people to make sure they can get anyone in and then they've got Arsenal at home next.
"I don't see too many people rushing in [to take over from Lampard] for those two games [against Arsenal and Liverpool].
"They're not not trying for Lampard, it's nothing to do with that. Sometimes you look at players and think, 'they're just waiting for the manager to go and then they'll start running around again'. They work hard. But they're just not up to it at the moment.
"They started well and West Ham looked really nervy for the first 15-20 minutes. But then West Ham score and everybody wanted the ball, they scored another goal eight minutes later and that was sort of the game. Everybody got lifted at West Ham.
"I said I worried for him before the start of the show and I definitely worry for him now."