Sky Sports News chief reporter Kaveh Solhekol says former Bayern Munich head coach Julian Nagelsmann is the front-runner to become the new Chelsea manager after Graham Potter was sacked on Sunday night.
Potter's departure follows the Blues' 2-0 loss at home to Aston Villa, which saw them slip into the bottom half of the Premier League table. Sky Germany claim it is 50:50 as to whether Nagelsmann would be prepared to move quickly.
Bruno Saltor will take charge as interim head coach, with Chelsea set to host Liverpool at Stamford Bridge on Tuesday night live on Sky Sports before travelling to Wolves next weekend.
A club statement read: "Chelsea FC has announced that Graham Potter has departed the club. Graham has agreed to collaborate with the club to facilitate a smooth transition.
"In his time with the club, Graham has taken us to the quarter-final of the Champions League, where we will face Real Madrid. Chelsea would like to thank Graham for all his efforts and contribution and wish him well for the future."
Potter, who left Brighton for Chelsea in September, had repeatedly stated that despite the club's struggles he felt he had the full support of the owners at Stamford Bridge. Sky Sports News chief reporter Kaveh Solhekol looks at where it went wrong for Potter and why the club have moved now to replace him…
Co-owners Todd Boehly and Behdad Eghbali's joint statement
"On behalf of everyone at the club, we want to thank Graham sincerely for his contribution to Chelsea.
"We have the highest degree of respect for Graham as a coach and as a person. He has always conducted himself with professionalism and integrity and we are all disappointed in this outcome.
"Along with our incredible fans, we will all be getting behind Bruno and the team as we focus on the rest of the season.
"We have 10 Premier League games remaining and a Champions League quarter-final ahead. We will put every effort and commitment into every one of those games so that we can end the season on a high."
Who could replace him?
Sky Sports News' chief reporter Kaveh Solhekol says Chelsea would like Julian Nagelsmann to be their next head coach after the sacking of Graham Potter.

Chelsea will have been doing their homework in the background, trying to set up a replacement. At the moment, we don't know who that person will be. What we do know is that they want Julian Nagelsmann and and he is available at the moment.
The latest information we have coming out from Sky Germany is that they're not convinced that he's going to want to move from Germany and take another job straightaway. Maybe he's going to want to wait until the summer to give him a little bit of a chance to recharge his batteries after leaving Bayern Munich.
Other jobs could become available in the summer as well, like the Real Madrid post. But speaking to my colleagues at Sky Germany for the past week, they've been reporting that if Potter was to lose his job, then Nagelsmann would be the No 1 target for Chelsea.
It all depends on if Nagelsmann wants to take up another job so quickly.
Can we expect a swift appointment?
Graham Potter felt his players put in a 'positive performance' despite their 2-0 defeat to Aston Villa – the match which proved to be his last in charge of the club.

Chelsea need to appoint a new head coach, but it sounds like they will be taking their time. The information we've had since Monday from Sky Germany is that if Graham Potter was to lose his job, then Chelsea's top target would be Julian Nagelsmann, who has just lost his job at Bayern Munich.
The information I've got from my colleague Florian Plettenburg at Sky Germany this evening is it is 50:50 as to whether Nagelsmann would be prepared to move to Chelsea at the moment. He's lost his Bayern Munich job and would like to take a bit of time out. You don't want to jump from just one job to another, especially when you're somebody like him who knows he is going to be in demand.
The Real job could become available, Spurs are very keen as well. Sky Germany are saying that it is 50:50 as to whether he would be prepared to move quickly.
The complicating factor is his contractual situation with Bayern. If Chelsea wanted Nagelsmann now, even though he is no longer the Bayern manager, his contract would mean Chelsea would have to agree a deal with Bayern Munich. Sky Germany says that there has been no contact between Chelsea or Bayern about Nagelsmann. No negotiations at all.
The Bayern Munich chief executive Oliver Kahn appeared on Sky Germany this evening just before it was announced that Graham Potter had lost his job. Kahn said he didn't expect Nagelsmann to move to another club this season and it would be more likely that he would move to another club in the summer.
From Bayern's point of view, it would be complicated if Nagelsmann was to move to Chelsea. We could potentially have a Champions League semi-final in a month's time between Chelsea and Bayern. In that situation, you could have Nagelsmann managing Chelsea and Thomas Tuchel – the former Chelsea manager – managing Bayern Munich.
How it unravelled for Potter at Chelsea
Everybody at the club wanted to give him more time. Todd Boehly was his biggest supporter and was instrumental in appointing Graham Potter. He's the one who has really been backing him and keeping him in his job for a long time.
I know there were a lot of senior people at Chelsea who wanted to make the change a lot earlier. But ultimately, they weren't able to make that decision up until yesterday.
If you look at Chelsea's form under Graham Potter, it just simply has not been good enough. Results have not been good enough for a Chelsea manager. Under Chelsea's previous owner Roman Abramovich, he probably would have been sacked three or four times. Chelsea have a history of changing managers very quickly when results are not going well.
Potter has had seven months at Chelsea and results have not been good enough. This year, from the beginning of January until a couple of weeks ago, they won just one in 11 games. Then they had a couple of wins against Leeds, Dortmund and Leicester before the international break. Then they drew against Everton and that performance yesterday.
They haven't been playing well, they haven't been scoring goals and unless they win the Champions League, they're going to miss out on that competition as well. That is a massive consideration for Chelsea's American owners.
Paul Merson believes Chelsea will not want to be qualifying for the Europa Conference League next season.

My experience of covering Chelsea – the Chelsea manager has been someone with a massive personality. Somebody with a big ego, somebody with a CV with lots of trophies on it. You have to look at the people who have managed Chelsea in the past 20 to 25 years.
If you go back to September, it was a shock when Thomas Tuchel lost his job. You're talking about a manager who had won three trophies in 20 months, who won the Champions League.
When Tuchel lost his job, Chelsea were the reigning Club World Cup champions, they were sixth in the Premier League. They had a bit of a mixed start to the season, but it was still a strange decision. Most people involved in Chelsea and football would say that. To sack a manager of the calibre of Thomas Tuchel and then the real risk to replace him with Graham Potter.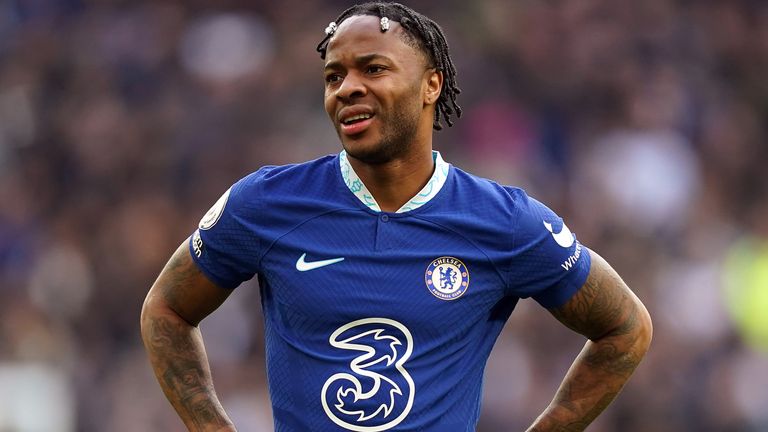 No disrespect to Graham Potter but under the previous ownership at Chelsea, he would not have got the job. He cost Chelsea £21m to get him and his coaching staff from Brighton. They made a massive investment on him, gave him a five-year contract. The new American owners were very impressed with him, the American owners thought he would be the man for the future.
They really, really backed him well beyond the point that most Chelsea supporters would want him to be sacked. If you're Chelsea Football and you spend £550m in two transfer windows and you're 11th in the Premier League, if you're the manager of that club and that's happening under your watch, that's going to cost you your job.
Were the signings his signings?
Jimmy Floyd Hasselbaink and Lee Hendrie debate whether or not Mykhailo Mudryk has lived up to the expectation since signing for Chelsea.


A lot of the signings weren't Graham Potter signings, that's not how it works at Chelsea. The recruitment strategy from the owners is they want them to buy the best young players in the world and then make a big impact in the transfer window. Those singings weren't Graham Potter singings. He had a say in them, he spoke to the players before they signed. But he wasn't picking those players.
They were players who were given to him to work with. Players at Chelsea have a lot of power, you need a big personality manage then and to work with them. Jose Mourinho, Antonio Conte, Thomas Tuchel, Carlo Ancelotti, even Frank Lampard.
Yes, he was inexperienced but his aura and stature at the club meant he was respected immediately by the players. Graham Potter is a very, very good coach, but the Chelsea coach is one of the biggest jobs in world football. To do that job, you need to have the stature of a Mourinho, Conte or Tuchel.
What now for Potter?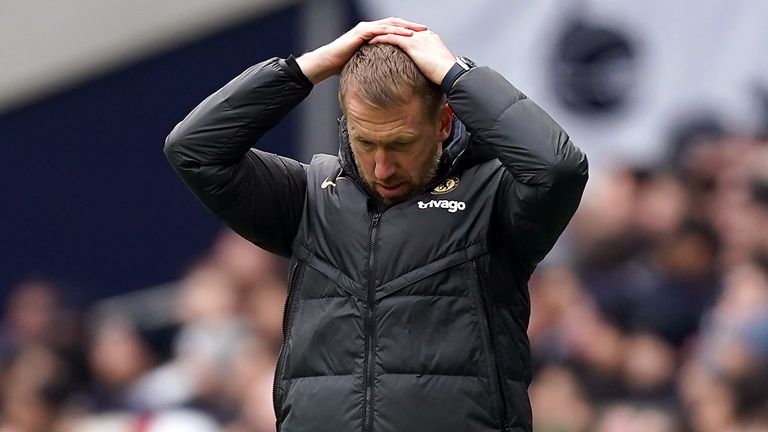 I think it will damage his reputation at the top level. He got an incredible opportunity to manage a club like Chelsea, there was no way he could turn it down. He did his best, he carried himself impeccably at all times.
He took responsibility for things yesterday, he had to put up with a lot. People have been reporting on the fact that he may lose his job and he is one defeat away from losing his job for a long, long time. He has also spoken about threats sent to him and his family. I would have taken a lot out of him doing his job as well.
I'm sure he will be back. He's a fabulous coach and manager, but a lot of mangers with many more trophies and successes on their CVs have lost their job at Chelsea, Chelsea was just one level too high for him at this point of his career.
The results have been atrocious. They're as close to the relegation zone as they are to the Champions League places. Something incredible has to happen for them to be in that competition next season.
How does Potter exit reflect on owners?
Jamie O'Hara has no faith that Chelsea head coach Graham Potter can turn things around, saying the players have not bought in and he should demand more from his players.

I don't want to criticise the Chelsea owners at all, but these are people who have very little experience of English football. They have a lot of experience of running investment companies, becoming very rich and running hedge funds but when it comes to English football, they are relative novices.
They would've been taking a lot of advise from different people, different agents and who would've advised them. At the time in September when they decided to sack Thomas Tuchel, a lot of people were surprised and there was a lot of things going on behind the scenes at the club.
It was a shock then and it was equally a shock that they decided to hire Potter. A lot of owners of big clubs wouldn't have taken that risk but maybe it was a factor that they are inexperienced in English football which meant that they looked at Potter, what he was doing at Brighton, and identified him as the upcoming coach that they wanted to place their faith in.
But it didn't make sense to a lot of people from the start and the jury was out from the beginning among Chelsea fans who were convinced he wasn't the right man for the job.
Unfortunately, it just hasn't worked out. In the short-term, Chelsea have got a game on Tuesday against Liverpool. It's a massive game. Word went out from Chelsea this morning that Potter would be taking the news conference on Monday at Cobham.
People were reading into that his job was safe, but clearly that has proven not to be the case.
April 4: Liverpool (H) – Premier League, kick-off 8pm, live on Sky Sports
April 8: Wolves (A) – Premier League, kick-off 3pm
April 12: Real Madrid (A), Champions League quarter-final, kick-off 8pm
April 15: Brighton (H) – Premier League, kick-off 3pm
April 18: Real Madrid (H), Champions League quarter-final, kick-off 8pm
April 26: Brentford (H) – Premier League, kick-off 7.45pm
April 29: Arsenal (A) – Premier League, kick-off 5.30pm, live on Sky Sports
May 6: Bournemouth (A) – Premier League, kick-off 3pm
May 13: Nottingham Forest (H) – Premier League, kick-off 3pm
May 20: Manchester City (A) – Premier League, kick-off 3pm
May 28: Newcastle (H) – Premier League, kick-off 4.30pm
TBA: Man Utd (A) – Premier League