Kevin De Bruyne has created 98 goals in the Premier League, with all but one of those coming during eight glittering campaigns at Manchester City – but is his undisputed crown as the midfield king under threat from Arsenal playmaker Martin Odegaard?
Odegaard extended his league goal tally to 10 this season at the weekend, hitting double digits for the first time in his career – and he has also created another six for team-mates along the way.
Meanwhile, there have been question marks over De Bruyne's omission from the starting XI in recent weeks, having been an unused sub against Spurs at the Etihad and being called from the bench in the reverse fixture. The Belgium international remained unused at Bournemouth and clocked only 11 minutes at Palace on Saturday.
Those narratives prompted Jamie Redknapp to hail Odegaard as the league's top playmaker after the Gunners' 3-0 win at Fulham: "Right now, Odegaard is the number one [midfielder in the Premier League].
Jamie Redknapp believes Arsenal's Martin Odegaard is currently the best midfielder in the Premier League following their comprehensive 3-0 win at Fulham.

"Normally you'd say De Bruyne is the best midfield player, not just in the Premier League but in the world. Something isn't quite right, he's not playing as many games as he'd like. But Odegaard does this thing which all great players possess: it's like time stands still when he has the ball. The calmness he possesses.
"He's scored four or five goals like he did against Fulham, with that left foot. He's the captain, he's the leader. He's leading that team. When he hasn't got the ball he goes and presses it and it catches."
FREE TO WATCH: Highlights from Arsenal's win against Fulham in the Premier League.

New data reveals Redknapp is spot on: 510 opponents have pressurised Odegaard on the ball, compared with just 336 on De Bruyne – proving his immense ability on the ball while under pressure. Of course, the Belgian creates space to break free – but the Arsenal man clearly works in tight spaces with unrivalled composure.
So, which midfielder is the greatest right now, and how do their styles compare?
Goal power
In terms of goals and assists combined, both players are locked on 16 in the Premier League – more than any other midfielder in the division.
A look back at Martin Odegaard's best bits from the Premier League since signing from Real Madrid.

You can tap on the column headers in the graphic below to sort statistics, but it becomes abundantly clear that, right now, Odegaard is twice a deadly at scoring goals, while De Bruyne is twice as dangerous from killer passes.
If we look at expected goals and assists – which enables us to quantify the average returns from the quality of chances conjured, De Bruyne soars clear of the pack for expected assists (xA).
Meanwhile, Odegaard tops the expected goals (xG) chart for midfielders – narrowly edging Brighton's World Cup winner Alexis Mac Allister.
We can add more context when we plot those numbers onto a scatter chart and add a third metric into the mix: carry progress distance – which measures the number of metres a player drives upfield with the ball at their feet.
Here, De Bruyne sits in a league of his own for creating gilt-edged chances, while his lung-busting charges from deeper areas sees his carry progress on par with some of the league's top rampaging full-backs.
Speaking on Super Sunday, Jimmy Floyd Hasselbaink said: "Odegaard's a different player to De Bruyne, but he's always got a solution. When he comes into a tight space, he finds the right solution and very calmly.
"He doesn't have as many assists as De Bruyne because he's not that kind of player. But other things he does, he's doing them so elegantly and so well. It's a pleasure to watch him."
Arsenal's Martin Odegaard Cruyff turned past Everton's Alex Iwobi as the two men were going in for a 50-50 tackle.

The stats back this up: Odegaard typically works in tighter spaces and covers less than half the distance than his rival when running upfield with the ball – but his intricate control under pressure is unrivalled… we'll get to that.
FREE TO WATCH: Highlights from the Premier League match Crystal Palace and Manchester City.

How they differ on the pitch
The visualisations below reveal how De Bruyne typically operates in the right channel, combining most frequently with the right centre-back, right-back and right winger – but he also flips to the left channel at times. He also provides considerable midfield mettle – making defensive actions across the width of the opposition half.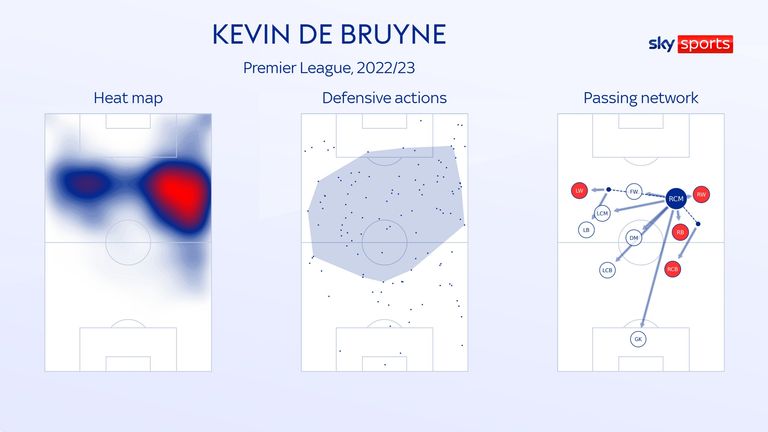 Odegaard is similar, but different.
The Arsenal captain plays slightly more centrally. As a result, the defensive midfielder and centre-forward are also among his most frequent passing partners – in addition to the right-back and right winger.
The Norwegian's defensive actions are also far more concentrated in the right-of-centre area, inside the opposition half – which often result in turnovers leading to attacks.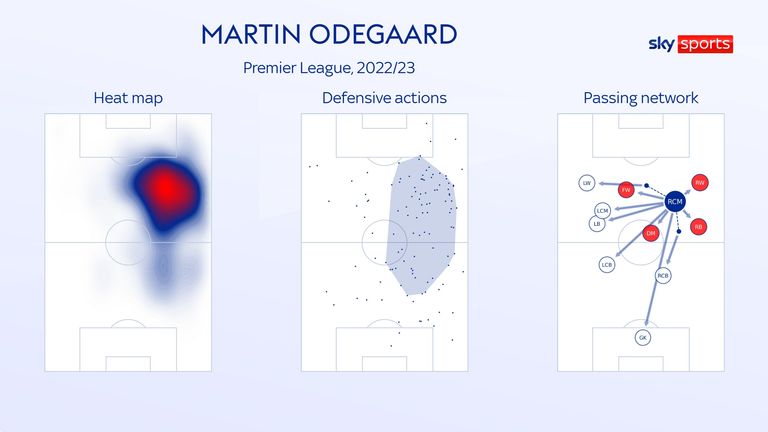 The graphics below elaborate on the points above, showing how Odegaard attempts nearly twice as many passes in the central third of the opposition half and also has a superior passing accuracy.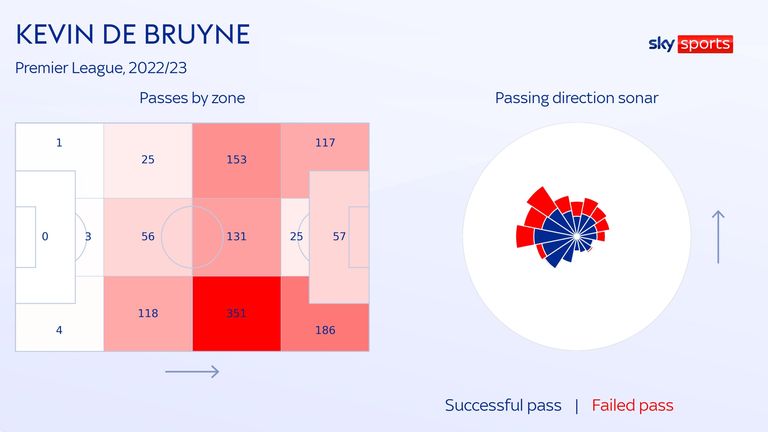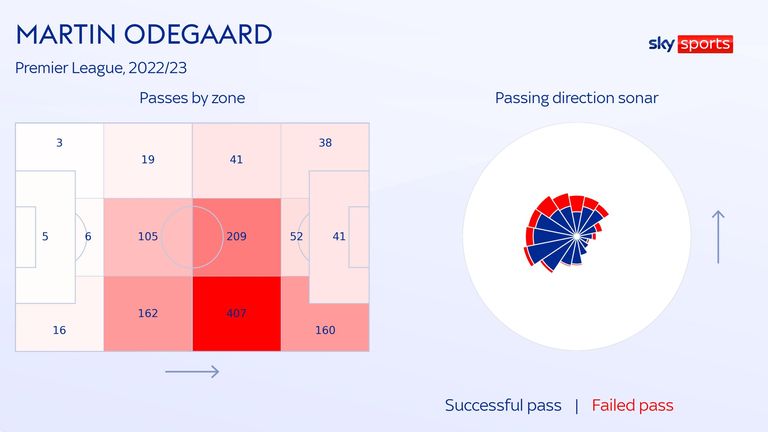 In terms of pressing, the table below emphasises how effective Odegaard has been for the Gunners' aggressive approach: the Norway international has pressed opponents 36 per cent more than De Bruyne over the campaign.
How they score and assist
Why has Odeggard almost doubled De Bruyne's returns for goals, and why is the reverse true for assists? Well, the graphics below provide simple answers.
De Bruyne has almost exclusively fired from outside the box this term, while Odegaard has shot from inside and outside the box in almost equal measure.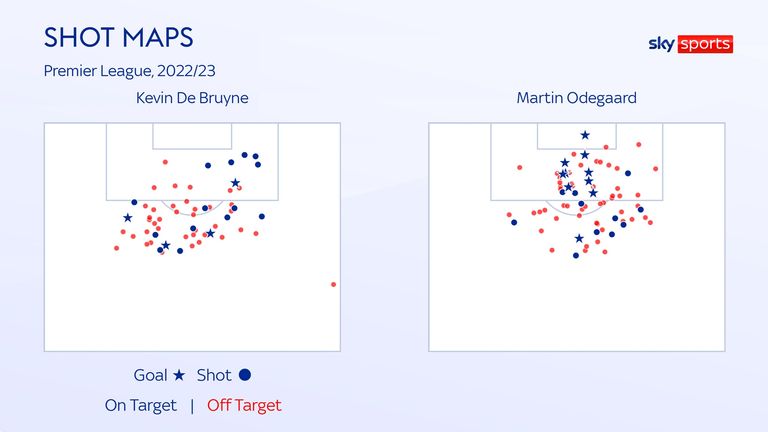 And the numbers below reiterate those stylistic differences: the average De Bruyne shot is fired 23m from goal, whereas Odegaard's attempts are struck five metres closer.
The parity in their shot power might surprise some. De Bruyne thunderbolts could fill an album, but both players' shots have averaged at 49 mph – with a maximum speed closer to 60 mph. Again, Odegaard is typically under more pressure when unleashing attempts.
In terms of creating opportunities for team-mates, De Bruyne has fired far more balls into the box – with most coming from wide angles and his favoured right-of-centre area, just outside the box.
In contrast, Odegaard frequently carves openings from deeper, central areas with deft passes to find runners.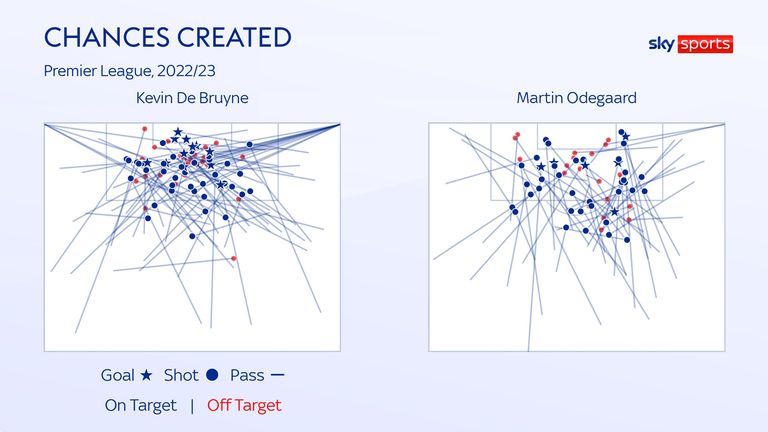 The advanced metrics below shed even greater light on the players' passing styles, with De Bruyne's usually making longer passes at a faster speed – while also bypassing almost twice as many opponents as his counterpart.
Assist of the season? Revisiting Martin Odegaard's magical assist for Arsenal against Brighton on New Year's Eve from all angles.

But, again, Odegaard has a superior pass completion – despite being under far more pressure and almost matching De Bruyne for average expected pass completion.
Speaking ahead of the Champions League round-of-16 second-leg meeting with RB Leipzig, Pep Guardiola summed up his captain's qualities: "He has an incredible ability to make an assist, to score goals and see passes better than anyone else.
"When you do the simple things perfectly, you are in the right moment, move outside, inside, when you attack the channels – whatever you do in that moment, the actions to create incredible passes that only he can do, it will be easier, it will be better."
The Athletic's David Ornstein and The Sun's Charlie Wyett discuss the reasons behind Kevin De Bruyne's recent dip in form.

Indeed, De Bruyne's returns of 0.56 assists per 90 minutes in the Premier League this term ranks as his third-most prolific campaign in that ratio to date.
But Odegaard – seven-and-a-half years his junior – is closing down on the Belgian's undisputed crown as the league's top midfielder.
Right now, the pair are locked on goal involvements as their teams maintain their title-tussle – but there could be a change of guard on both fronts come May.