When Manchester United's internationals returned to Carrington, "re-energised and in the best spirit" to pinch their manager's description, Erik ten Hag greeted them with a gift.
The Dutchman, his coaching staff, and the club's performance analysts had spent the break going through displays from the season – particularly from the turn of the year, to create a visual guide on where and how improvements can be made.
The bulk of the video centred around credence in possession. Ten Hag has long spotted that his side need to be better at wanting the ball, staying on it, assessing where the overloads are, before attracting opponents in and hurting them.
The analysis also flagged how United could make better, more profitable decisions in attacking transitions and how to recover during defensive ones.
During a team meeting on Friday, it was played to the squad.
"We pointed it all to them," Ten Hag told Sky Sports News at the club's training base. "We set the targets again and showed where we have to improve our game."
Club managers often shun the international break as it disrupts rhythm and takes players away from a fine-tuned routine. United's boss admitted both he and the group needed a reset after a taxing schedule which sees his team still fighting for two trophies and top-four finish.

Sunday 2nd April 4:00pm


Kick off 4:30pm

Ten Hag's men have already played 46 matches in all competitions this season and should they reach the FA Cup and Europa League finals, would be looking at a mammoth 65-game slog in total.
United have only ever taken on a greater load once in their history: the 2008-09 season with 66 fixtures.
Bruno Fernandes has racked up more minutes (4,571) and games (53) for club and country than any other outfield player in Europe's top five leagues. Ten Hag had circled that Lisandro Martinez, Marcus Rashford, Fred and Casemiro are also among the top 25 of that list.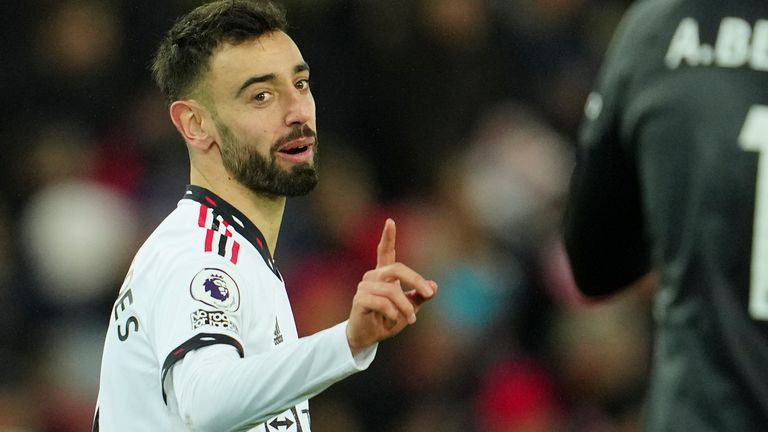 He detailed why the break has been significant, the challenges for the rest of the campaign, and the standards he expects.
"I think it's necessary for us," he said about international breaks, which are rarely popular with managers.
"It's a breather for us to analyse the last couple of of months in this case. So look at the games, look at where we are in the season. It's a chance to collect energy, but also make plans for the future. And so in that part, it's also good for the players.
Former Scotland goalkeeper David Marshall reacts to Manchester United midfielder Scott McTominay doubling Scotland's lead against Spain in their European Championship qualifier.

"They go away playing for the nations. You see often they come back with a lot of energy and especially when they perform like our players did in the international break. And I think they play brilliant: England beating Italy, beating Ukraine, Scott McTominay beating Spain, scoring four times, and things like that. The lads came back with with a lot of energy, with a lot of spirit.
"Of course [you are sometimes on edge about potential injuries]. That is always the balance. You are thinking that all the time. I had the experience that your players return with bad injuries – especially in the end of the season like we are now. When you are in the final phase of season and then players come back with bad injuries, that affects a lot of your performance.
Ten Hag: The season starts now
Assessing where he thinks United are at heading into the business end of the season, Ten Hag said: "So far so good, but season now starts! We are in the right position, but everything we work for we get rewarded for it.
"In the end it's about about silverware and about top four. So when you don't achieve that, it's all for nothing. So we make sure we are in the right position.
"We developed a team, we developed a way of playing so we have a good base to get performances and to get results. But now we have to start."
David de Gea has reiterated how happy he is at Manchester United as talks over a new contract continue. Watch the full interview with De Gea and Tom Heaton on Super Sunday Matchday – 10am Sunday – Sky Sports News.

Ten Hag said he thinks United are benefitting from working hard to raise standards across the board.
"We began that process when we started the season," he explained.
"You set standards and shared values, but you have keep and control them and that's maybe the most difficult part of it. But you have to keep doing that because when you lower the standards, you will see and the results will decrease."
Erik ten Hag says he's hopeful that Marcus Rashford will be fit for Sunday's Premier League clash with Newcastle as he continues his recovery from injury.

On how to manage the workload of his players, Ten Hag said: "I'm all the time, of course in contact with medical staff, with performance staff, but also I have my eyes and you can see the levels.
"You have to approach each individual differently and then manage the games: see what you need tactical-wise, but also from physical load perspective, and then pick the right team.
So has Ten Hag met any of the potential new owners?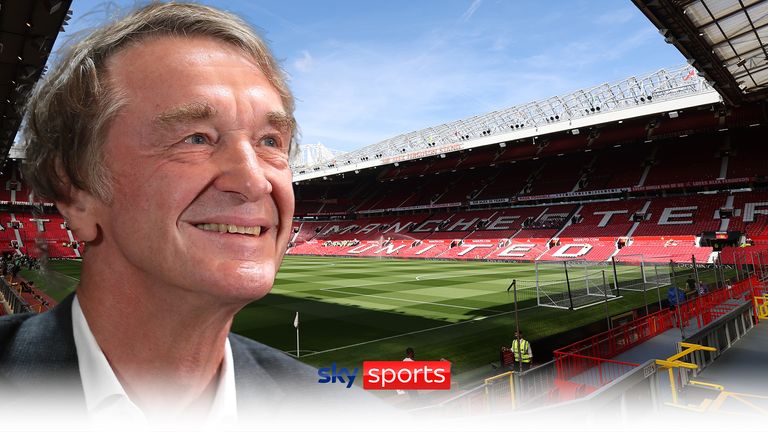 "Sir Jim Ratcliffe, I met him, we shook hands, but that was all. But there was a coincidence because we coincidentally met in the corridor, but so not officially. I was not in contact with anyone."
On whether he knows the latest developments on the takeover, Ten Hag said: "No, so they leave me out of it which is fine because others have to decide. It's not up to me. My job is to lead and to manage the first team and to let them perform and to get the right results, and that is where I have to focus."
'We play only finals'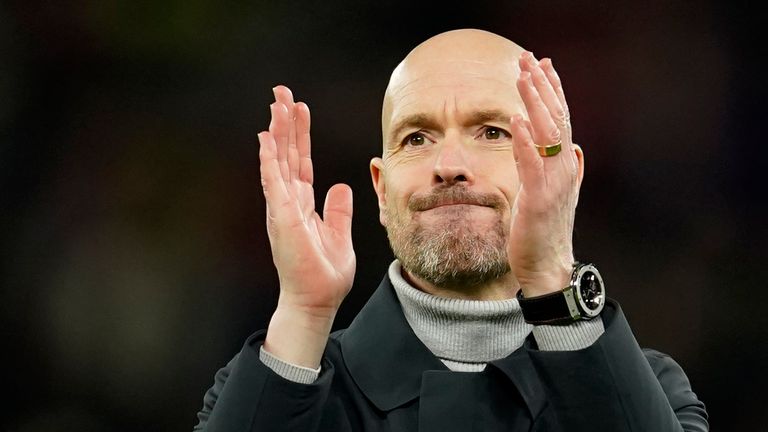 Ahead of the tests that remain between now and the end of the season, starting with Sunday's visit to Newcastle, Ten Hag said: "We are unified, we are together in this team, and there's a great team spirit. We need that in the final stage of the game because we play only finals.
"We know it's a difficult team, he said of the team that Manchester United beat to lift the Carabao Cup.
"So with a good team spirit good manager who put in the right way of play for them. So it's a difficult team to play against, to face, but have we looking forward because we like challenges and we already prove this season that we can face good challenges and that we can beat good opponents and win big games. So yeah, now we have to go again and we are really looking forward.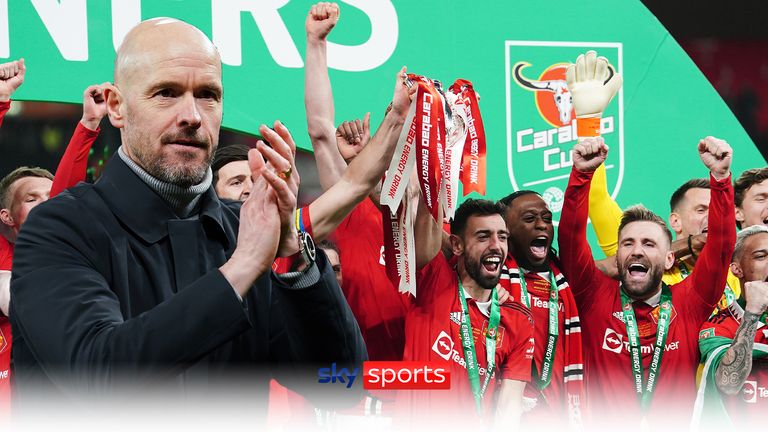 "The first game is the most important game, and it's only about that. And so right now in preparation, I only think about that game from Newcastle and that's the only thing what's in my head. And for the rest, we have a plan of course, but the approach is that what happens in the first game always affects the next game.
"Yeah, definitely [this team can push on and meet the targets set].
"Because the whole season we improved and we are fit, we have the right spirit, and now we have to work on our game. So the players have the right attitude already. I'm in a good mood into the final stage of the season."
Watch Newcastle vs Man Utd live on Sky Sports Premier League from 4pm on Super Sunday; kick-off 4.30pm.
April 2: Newcastle (A) – Premier League, kick-off 4.30pm, live on Sky Sports
April 5: Brentford (H) – Premier League, kick-off 8pm
April 8: Everton (H) – Premier League, kick-off 12.20pm
April 13: Sevilla (H) – Europa League, kick-off 8pm
April 16: Nottingham Forest (A) – Premier League, kick-off 4.30pm, live on Sky Sports
April 20: Sevilla (A) – Europa League, kick-off 8pm
April 22: Brighton (N) – FA Cup semi-final, kick-off 3pm
April 27: Tottenham (A) – Premier League, kick-off 8:15pm
April 30: Aston Villa (H) – Premier League, kick-off 2pm
May 4: Brighton (A) – Premier League, kick-off 8pm, live on Sky Sports
May 7: West Ham (A) – Premier League, kick-off 7pm
May 13: Wolves (H) – Premier League, kick-off 3pm
May 20: Bournemouth (A) – Premier League, kick-off 3pm
May 28: Fulham (H) – Premier League, kick-off 4.30pm
TBA: Chelsea (H) – Premier League