Crystal Palace chairman Steve Parish says he will not rush appointing Patrick Vieira's successor after the Frenchman was sacked following 18 months in charge.
Vieira has left Palace after a run of 12 games without a victory in all competitions – with their last win coming against Bournemouth on New Year's Eve.
That run saw Palace exit the FA Cup at the third round to Premier League bottom side Southampton, while they have slipped to within three points of the relegation zone.
Parish told Sky Sports News: "Of course it is a shame. I have an enormous amount of time and respect for Patrick [Vieira] and what he did for us. He got us to an FA Cup semi-final and we had a fantastic season last year.
"But obviously it is a results-based business and it is very tight at the bottom. I have to think about what gives us the best chance of retaining our top-flight status.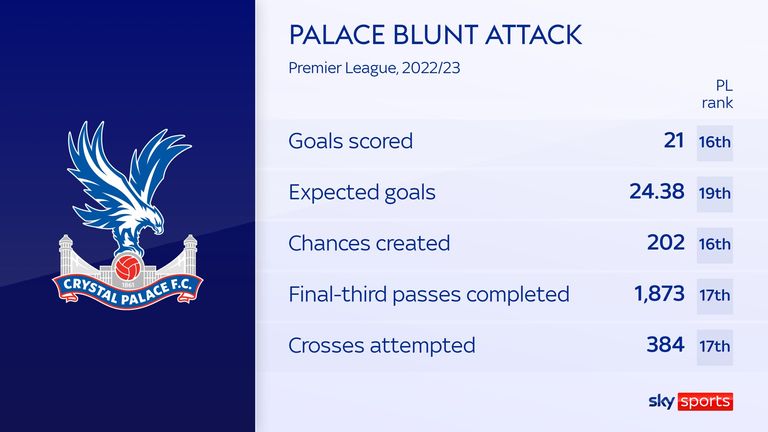 "That's what it's about now and we have to accept that we're in a dogfight at the bottom with some very good teams.
"When you look at Leicester, West Ham, Wolves, Southampton, us, you start to think that three of those names are going to get relegated – they're three very big names in the Premier League."
Palace have confirmed that U21s head coach Paddy McCarthy will take charge of the Eagles' next game away at Arsenal on Sunday supported by assistant Darren Powell and goalkeeping coach Dean Kiely.
"Football is a strange game as things can very quickly start not going right. When you feel you can't get out of a rut, unfortunately then you've got to change something.
FREE TO WATCH: Highlights from Brighton's win against Crystal Palace in the Premier League

"Maybe things might have changed [for the better] anyway, but I couldn't be sure of it so I've made the call I have and we move forward from here.
"Everybody loved Patrick, he never lost the players at all. They were still running for him but things weren't happening. We're just hoping now that there is some fresh impetus, a few different ideas.
"Maybe we can surprise the opposition by doing something different as we've got good players and have got a good squad. They followed Patrick and now they will follow Paddy [McCarthy] and Darren [Powell] to do the best for the football club.
"The mood is never bad and everyone is positive and believe we can win matches. Everyone is still positive for the game against Arsenal on Sunday. We're not looking past Sunday. We're not interviewing managers while we have the current set-up as that would be disrespectful.
"We want to give Paddy and Darren a clear run at it on Sunday. We've got our own list and that kind of thing but our focus is on facing Arsenal."
Vieira's last match in charge of Palace was a 1-0 loss to rivals Brighton, the fourth successive game in which the south London club have failed to score.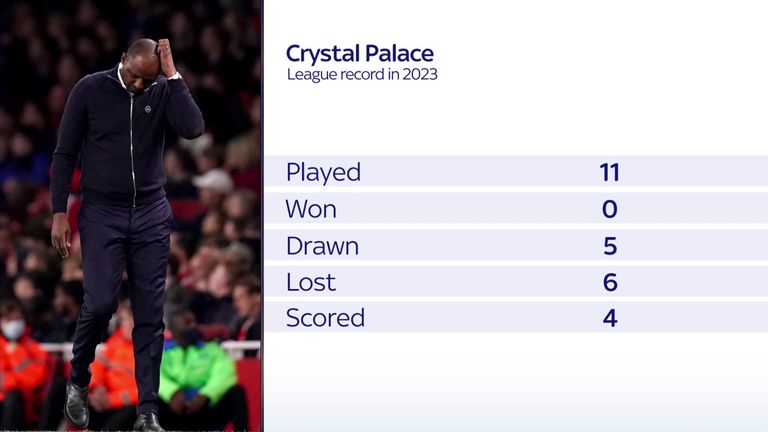 Palace failed to register a shot on target in three consecutive games against Aston Villa, Manchcester City and Liverpool – becoming the first Premier League to do so since Opta started recording data in 2003.
Palace have confirmed that, alongside Vieira, Osian Roberts, Kristian Wilson and Saïd Aïgoun have also left the club.
A statement from Parish accompanying the announcement said: "It is with enormous regret that this difficult decision has been made. Ultimately, results in recent months have placed us in a precarious league position and we felt a change is necessary to give us the best chance of retaining Premier League status.
"That said, Patrick's impact since joining us in the summer of 2021 has been significant, and he is held in the highest regard by myself, and all of his colleagues.
"He led the team to a Wembley FA Cup semi-final and respectable 12th placed finish last season playing some exciting football, which was a challenging and crucial campaign for the club given the changes we made to the squad prior to his arrival.
"Patrick has given his all to the club, and we all thank him and his team for their service."
'Sacking Vieira a mistake – Zaha will be disappointed'
Former Crystal Palace striker Clinton Morrison speaking to Sky Sports News:
"For me, it's not the right call – I don't think he should have been sacked. I know the run they have been on is terrible – without a win since the New Year. But I speak to a lot of people at Palace, around the place there has been a lot of togetherness and that's down to Patrick.
Clinton Morrison believes Patrick Vieira's dismissal at Crystal Palace is the wrong decision and believes Vieira bought togetherness to the squad.

"I know it's a results-based industry but the run of games they have had is ridiculous. After Arsenal, the next five or six games are all winnable. I would have stuck with him. I don't know which other manager can come in and turn it around.
"It is a tough job and I don't know who is out there. Someone like a Jesse Marsch? What Palace are used to under Patrick Vieira might be different to what a new manager comes in and implements.
"So it will take time and Palace don't have time. They're in a relegation battle, you need confidence and you need someone who is going to come in and lift the team. There will be someone, as you don't make rash decisions like sacking Vieira without having someone lined up.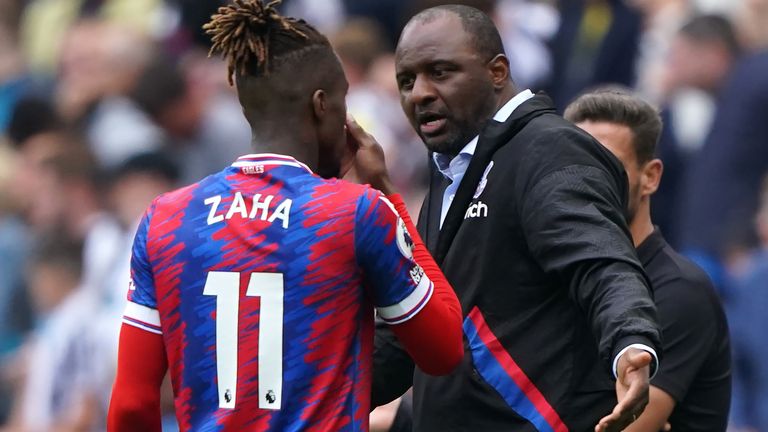 "I do believe the investment wasn't good enough in January, Vieira needed help in strengthening other areas.
"The biggest problem with Palace is scoring goals. They are too reliant on Wilfried Zaha and he's been injured for a bit recently. Other players need to step up, there are two players in Ebere Eze and Michael Olise who I think will go to the very top. I think Palace will stay up as they have talented players in the team.
"There are a lot of players who like Vieira, the harmony there is together. Zaha and Vieira had a brilliant relationship. I can't speak for him but he might be disappointed."
Patrick Vieira reflects on Crystal Palace's 1-0 loss to Brighton, which would be his last game in charge of the club, following his dismissal.

Former Crystal Palace manager Patrick Vieira after the Eagles' 1-0 defeat to Brighton:
"I'm concerned about scoring goals. When I look at the team performance and looking at the work ethic and our organisation and how the players execute our plan, I was pleased with that.
"The worry I have is that when you create those opportunities but you don't take them of course, you start to be worried about that. We have to score those goals.
"The players, especially those front players, have to change their mindset. We have to be more aggressive going forward, we have to be more aggressive in the last third. I'm not going to stop putting the pressure on that I'm putting on them at the moment until we get we want.
"It's not about showing more positivity, it's about showing the ingredients that you need to win matches. The players worked hard, they worked well, they competed.
"I never questioned the relationship or confidence I have with players or players have from me. The way they've been playing, we have showed we are together and I don't have any worries about relationships between players and myself."
When Palace regroup after the March international break, their next six fixtures are against teams below them in the table.
The last time the Eagles played a team below them in the league was against Bournemouth on New Year's Eve in 2022, which was Vieira's last win in charge.
March 19 – Arsenal (a)
April 1 – Leicester (h)
April 8 – Leeds (a)
April 15 – Southampton (a)
April 22 – Everton (h)
April 25 – Wolves (a)
April 29 – West Ham (h)