Paul Merson says it is the worst he has seen at Chelsea in 20 years after watching the 2-0 defeat at Tottenham last Sunday and the Sky Sports pundit thinks head coach Graham Potter will get the next two games against Leeds and Borussia Dortmund to try and turn things around.
Potter's side sit 10th in the Premier League table and 14 points behind fourth-placed Tottenham and have won just once in their last 11 matches in all competitions – scoring four goals in that time – while they have failed to record a victory in any away match since October 16.
That run of form, coupled with the club's recent spending on players in the January transfer window, has seen the pressure rise on Potter at Chelsea, but he still has the support of at least one of the club's owners.
In his latest column, Sky Sports' Merson discusses Chelsea's woes under Potter, while he also talks Arsenal's important fixture against Everton on Wednesday, the relegation battle, and he hails the importance of Erik ten Hag securing his first trophy at Man Utd…
'I could have played for Chelsea vs Spurs – it was so slow!'
Following a 2-0 defeat to Tottenham, Chelsea boss Graham Potter says their form is down to him and is very supportive of his squad who he believes are trying all their best to turn around their tough situation

It's the worst I have seen at Chelsea in over 20 years. The fans are fuming now. I was at the game against Tottenham on Sunday and that's the most hostile I have ever heard it among the Chelsea support.
I think Graham Potter will get the next two games, Leeds and Dortmund in the Champions League. It does not actually matter what happens in the Leeds match, it all comes down to the Dortmund game.
It's the only competition Chelsea can win, they are out of the FA Cup and will not get in the top four, and there's no way they can go into a Champions League game without a manager, it's pointless. People may say it won't be any worse, but it won't be any better. It's a massive week.
FREE TO WATCH: Highlights of Tottenham against Chelsea in the Premier League

At Tottenham, they did not look like scoring a goal in a year of Sundays. Mykhailo Mudryk is an £88m signing sitting on the bench, it tells you he's not Potter's player. If he was his player and he would have gone to the board and said he needed him, and would have to play him.
When Chelsea lost 1-0 at Dortmund, I thought they would definitely beat them in the second leg. Since then, I do not see how they will score two goals in a match.
They never looked like scoring at Spurs. I could have played for Chelsea on Sunday when they had the ball because it was so slow – and I'm 54! I can't run around anymore but I can pass the ball, and I could have played in the team. It was slow, sideways, backwards, I can play like that at my age.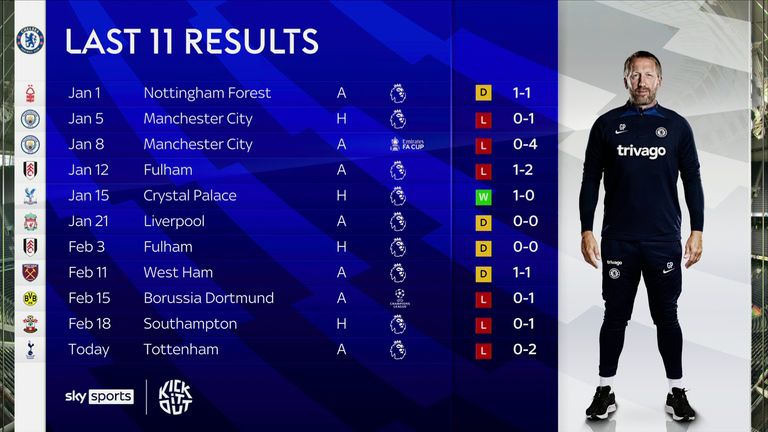 Chelsea's biggest game is Tottenham and it was lacklustre. They could still be playing now and they would not have scored. I cannot remember getting excited once in the game by them.
Chelsea beat Tottenham four out of four times last season, twice in the cups, twice in the league and that was when they had Heung-Min Son playing on fire. Now he's coming off the bench and they still cannot get a result.
I like Potter, they should give him a chance, but one goal in six games, one win in 11, two wins in 16. That is absolutely a no-go. It's extraordinary.
'Arsenal must make game in hand count'
FREE TO WATCH: Highlights of Leicester against Arsenal in the Premier League

When you are top of the league, off the back of a good result at Aston Villa, and you have got to go to a very difficult place like Leicester, who have dangerous players, you must start well – and in the first half Arsenal were outstanding.
Arsenal dominated, they scored the goal early in the second half but after that it was sloppy. They did not keep possession for long enough and Leicester put them under pressure although without ever looking like scoring. It was a proper away-day performance when you are going for the title.
I was not sure about Leandro Trossard playing up front, I did not think it worked. I would have brought Eddie Nketiah on at half-time because for all the play Arsenal had they did not look like scoring in the first half. The VAR decision to disallow Trossard's goal was a brilliant spot.
Paul Merson can only praise the VAR after spotting a foul and ruling out Leandro Trossard's goal for Arsenal against Leicester

Trossard playing in that position did mean they could keep possession because he was coming short for the ball. It was like Man City from last season playing a false nine.
That said, it was a good decision to give Nketiah a rest and I would be shocked if he did not play against Everton on Wednesday. So it's a masterstroke really to get him out of the firing line to recharge.
Arsenal have got to win on Wednesday against Everton, which is their game in hand and can move them five points clear. You have got to make that game in hand count, that's the name of the game. They should beat Bournemouth on Saturday and then you are at least five points clear with 12 games to go – it's in your hands.
'Relegation fight will go to the wire'
FREE TO WATCH: Highlights from Leeds' win against Southampton in the Premier League

Clinton Morrison was sat next to me on Soccer Saturday watching Leeds vs Southampton and he must have said to me five times, 'These two are getting relegated'. I worry for them. Southampton had a great result against Chelsea but you have to follow that up by not getting beat by Leeds. That's why they are at the bottom of the league.

Sunday 5th March 1:00pm


Kick off 2:00pm

Everton have had a reality check, the fans were booing after the defeat to Aston Villa on Saturday. They are not going to blow anyone away whoever they play. They have a certain style, hard to beat, tight and it's alright playing that way if you win matches. It's a hard job Sean Dyche has there. But there's a lot of games to go and it can quickly change.
As long as James Maddison is fit then Leicester have no chance of going down. They are a different team when he plays, a hundred times better. He gets on the ball and then everyone else does. It's a different game.
I don't think there are teams good enough at the bottom to start winning three or four games on the trot. They are going to be so inconsistent throughout the season and it will go to the wire. It's too tight and there's too many teams involved for it not to go the distance
It's also about the wow-factor results when you come back into the dressing room and see someone else has won when you did not give them a chance. They are the ones you do not want to see when you are at the bottom.

Saturday 4th March 5:00pm


Kick off 5:30pm

'Man Utd should be doing what they're doing – winning trophies'
Highlights of the Carabao Cup final between Manchester United and Newcastle at Wembley

My old Arsenal manager George Graham used to say, as a new manager, 'The quicker you win a trophy the better it is'. It's hard to get the first one over the line.
So it's a massive win for United to get them going, it's been six years since their last trophy which is ridiculous. It's always important to win trophies, there are only four to win and the Europa League and Premier League are a big ask.
Erik ten Hag has done an outstanding job but he does manage Manchester United, the biggest club in the world. I'm not being horrible but they should be doing what they're doing.
They have been able to bring in the likes of Casemiro, it's not like they are working on a shoestring budget. Brighton, Fulham and Brentford would love to sign a player like him.
Manchester United manager Erik ten Hag says the players will be inspired to win more trophies after their Carabao Cup victory over Newcastle

Ninety per cent of the games Man Utd play in the Premier League they are expected to win. It would be a shock if clubs like Brighton, Fulham and Brentford are expected to win 50 per cent of their matches.
But Ten Hag has got people believing now, not just the players but the fans which is the big thing. You have got to take your chances and win your trophies when you can. They are hard to win because there are too many good teams about nowadays.
Man United were getting rinsed by Brentford and Brighton at the start of the season, now they have lifted the first available trophy.
Manchester United manager Erik ten Hag almost left the Carabao Cup behind after his press conference – but he didn't seem too concerned!