With the Premier League season entering its final three months, just five points stand between 20th and 12th.
In perhaps one of the most hotly-contested relegation battles in years, a couple of results could ease relegation fears but a poor run of form for any of those clubs could see them deep in the mire, with little hope of getting out.
So who is most at risk of dropping down to the Championship? Here are the runners and riders from a competition no club wants to win come May 28.
Points: 27
Goal difference: -13
Form: DDLLL
Next six league games: Arsenal (A), Leicester (H), Leeds (A), Southampton (A), Everton (H), Wolves (A)
It has already been a difficult season for Crystal Palace seeing rivals Brighton aiming for a European place while they languish in the middle of the table.
But as the saying goes: it could be worse. It is heading in that direction under Patrick Vieira.
FREE TO WATCH: Highlights from Brighton's win against Crystal Palace in the Premier League.

Palace are without a league victory in 11 matches and last tasted a win in 2022. Three out of their last four games – a draw at home to Liverpool and defeats to Aston Villa and Manchester City – saw the Eagles become the first Premier League club in 20 years to fail to register a shot on target in three successive matches.
You feel that Palace's relegation fate will be decided in April – when they only play teams named in this list. Win most of them and the Eagles will be safe. Lose a few, and it will not just be a gentle glance over the shoulder.
Vieira: I'm worried about lack of goals
Patrick Vieira says he is "concerned" about the lack of goals in his Crystal Palace squad, adding that his front players must "change their mindset".
Although they did manage shots on target in their 1-0 defeat to Brighton – something they had failed to do in the previous three league outings – they failed to find the net for the fourth successive Premier League game.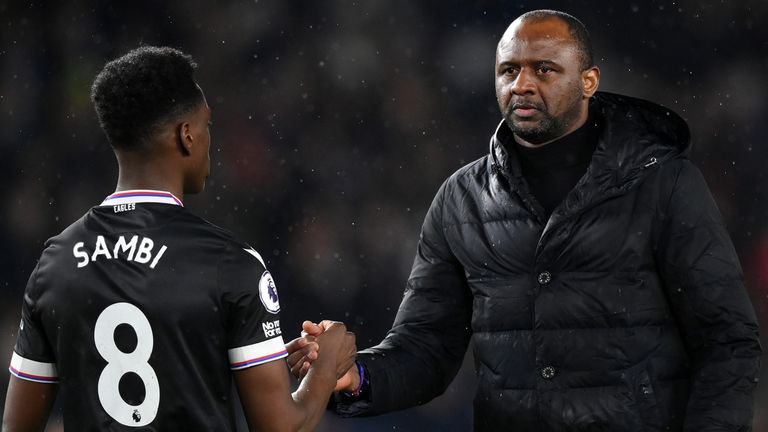 "I'm concerned about scoring goals," Vieira said. "When I look at the team performance and looking at the work ethic and our organisation and how the players execute our plan, I was pleased with that.
"The worry I have is that when you create those opportunities but you don't take them of course, you start to be worried about that. We have to score those goals.
"The players, especially those front players, have to change their mindset. We have to be more aggressive going forward, we have to be more aggressive in the last third. I'm not going to stop putting the pressure on that I'm putting on them at the moment until we get we want."
Points: 27
Goal difference: -17
Form: LDLWL
Next six league games: Leeds (H), Nottingham Forest (A), Chelsea (H), Brentford (H), Leicester (A), Crystal Palace (H)
Julen Lopetegui gave Wolves a post-World Cup lift after the club ended the first part of the season at the foot of the table.
But Wolves' recent form has been inconsistent; quite simply, you do not know which version of Lopetegui's side will appear each week.
Will it be the side that beats Tottenham or loses at Anfield? The one that recovers with 10 men at Southampton or loses at home to Bournemouth at away at Newcastle?
The bonus for Wolves is they have a lot of matches coming up either against the teams around them or at home. Even then, there would have to be a major drop-off in form for Wolves to fall back into the relegation mix.
Lopetegui: Relegation fight to go to last match
Wolves manager Julen Lopetegui speaking after his side's 2-1 loss at Newcastle:
"We were unlucky with the decision. We didn't have any penalty since I arrived here.
"But we have to keep working, I don't want to put the focus on only the referee. Because we have things to work on in our team and for me too. I'm not happy with how we ended the match."
Following his side's 2-1 defeat to Newcastle, Wolves manager Julen Lopetegui says 'it is always difficult to accept defeat'

"The relegation fight will be until the last match. We will fight with a lot of good teams and we have to be ready. But we have to focus on the next one and carry on fighting to improve the wrong things."
Points: 26
Goal difference: -26
Form: LDLDL
Next six league games: Newcastle (H), Wolves (H), Leeds (A), Aston Villa (A), Man Utd (H)*, Liverpool (A)
* Live on Sky Sports
All of the talk about Nottingham Forest surrounded the players they brought in. Now it's more about who they don't have available.
Forest made 30 acquisitions this season as they made their long-awaited Premier League return, but now have a growing injury list of eight players. That includes key spine players such as Dean Henderson, Scott McKenna and Taiwo Awoniyi.
Nottingham Forest boss Steve Cooper says their poor first-half performance cost them against Tottenham

But there are plenty of positives at the City Ground and Forest are worthy frontrunners in the bid to stay up. Firstly, their home form has been excellent and they have not lost in front of their own fans since September, with Liverpool and Manchester City failing to come away with three points there.
Then there's the attacking quality of Brennan Johnson and Morgan Gibbs-White. Whenever those two players combine at their best, Forest tend to avoid defeat.
Should both of these positive plus points continue, then Forest will not have any issues come the end of May.
Cooper: Johnson making an impact for us now
Nottingham Forest manager Steve Cooper on Brennan Johnson:
"He's doing really well – he's a young player playing in the Premier League for the first time. He's starting to establish himself at the level, but he plays in a position where we want him to create and score goals.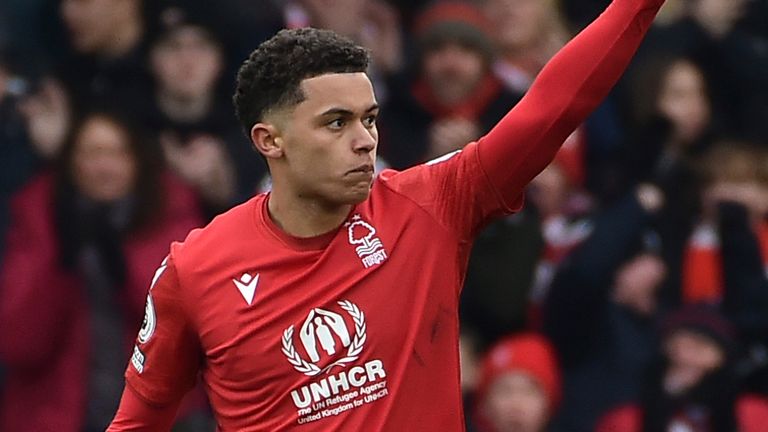 "He's becoming a real threat now in Premier League games. He did that at the Championship level and it took a little bit of time in the Premier League, like all of us did.
"I won't say too much because he's got a long way to go and I want him to play well next week and the week after, but he's having a positive impact for us and I hope he keeps it going."
Points: 25
Goal difference: -18
Form: WLLDW
Next six league games: Chelsea (A)*, Tottenham (H)*, Man United (A), Fulham (A), Crystal Palace (A), Newcastle (H)
* Live on Sky Sports
Sean Dyche came into Goodison Park and has immediately won fans over with three crucial home wins against Arsenal, Leeds and most recently Brentford.
FREE TO WATCH: Highlights from Everton's win against Brentford in the Premier League

But Everton's problems on the road cost Frank Lampard and Rafael Benitez their jobs in the blue half of Merseyside. Dyche has come in and seen his side ship eight goals in his three away days at Everton – at Liverpool, Arsenal and Nottingham Forest.
A fired-up Goodison Park can be Everton's 12th man – it was last season in their successful survival bid – and if the Toffees are to stay up, you can expect the five games that remain at home will be where they can gather most of the points required.
But they will continue to be without striker Dominic Calvert-Lewin, who has suffered a setback in his return from injury.
Dyche effect starting to take hold
Everton boss Sean Dyche says his side had to fight to beat Brentford at Goodison Park

Analysis by Sky Sports' Richard Morgan:
The Sean Dyche blueprint is really starting to take shape at Goodison Park, with the former Burnley manager having already moved his new side out of the relegation zone after their 1-0 home win over high-flying Brentford on Saturday afternoon.
Dyche only took over from Frank Lampard at the end of January, but Saturday was the third 1-0 win of his tenure, all secured at Goodison, which is fast becoming a fortress. No other Premier League team has been as strong at home in that period.
That also means the new manager is making Everton hard to score against, as three clean sheets in just his seven matches in charge demonstrate, with the Toffees having only managed four league shutouts this season prior to Dyche's arrival.
Meanwhile, despite taking charge of just seven games so far, Dyche has already won as many top-flight games with Everton this season (3) as Frank Lampard did (3/20).
All of which bodes well for Everton's survival hopes, with Dyche having seemingly managed to mould a team that is not only hard to beat at home, but also one that is hard to score against.
Points: 24
Goal difference: -7
Form (most recent first): WLLLL
Next six league games: Brentford (A), Crystal Palace (A), Aston Villa (H), Bournemouth (H), Man City (A)*, Wolves (H)
* Live on Sky Sports
Leicester thought they had turned a corner. Back-to-back victories over Aston Villa and Tottenham, scoring eight goals in the process, looked to have earned Brendan Rodgers a bit more time at the King Power to turn the season around.
But the Foxes are back to square one. Four defeats on the bounce have put Leicester right back in the relegation question. The Foxes failed to score in the first three matches in that barren run, even though they competed well in all of them.
Leicester certainly have the players and the personalities to stay up, but the 2016 league champions have languished near the bottom all season. They need to turn a corner and do it properly.
Rodgers: Leicester are together – we have to get the points
Leicester boss Brendan Rodgers:
"If you think about earlier in the season, we had six games and one point. We have shown we can fight and we have a resilience and that's what's going to be needed now.
FREE TO WATCH: Highlights from the Premier League match between Leicester and Chelsea

"One thing we are is very much together. We'll keep fighting and there are still more points to play for. You want your team to be supported at home and the crowd behind them.
"We have to get through that and get the points. The supporters are disappointed we didn't get the result but it doesn't affect me."
Points: 24
Goal difference: -10
Form: DLWLD
Next six league games: Southampton (H)*, Newcastle (H)*, Fulham (A), Arsenal (H)*, Bournemouth (A), Liverpool (H)
* Live on Sky Sports
David Moyes asked whether his West Ham side were up for the relegation fight after they lost at Tottenham in February.
In the two results that followed, the Hammers have undergone two 4-0 results – one positive, one negative. They put four past Nottingham Forest in a sensational goalscoring burst in the second half. But then the worrying signs appeared again as they were humbled by the same scoreline at Brighton.
FREE TO WATCH: Highlights from the Premier League match between West Ham and Aston Villa

Last Sunday's 1-1 draw against Aston Villa was enough to lift them out of the drop zone for another week, but can Moyes' side carry on showing guise and pick up points where they can?
The other interesting part of their context is their Europa Conference League campaign, which starts in March at the last-16 stage. Would Hammers fans accept 17th place and winning that competition?
Rice: Brighton loss demoralising
West Ham captain Declan Rice conceded it felt "demoralising" to have been "played off the pitch" by Brighton in their 4-0 defeat two weeks ago.
Rice said: "We were beaten by a better team. Brighton played us off the pitch and made life difficult. But that wasn't a performance that was acceptable. Days like today you have to apologise to the fans as we've let the fans and the club down.
Declan Rice was in a despondent mood after West Ham's 4-0 defeat to Brighton and apologised to the London club's fans for a demoralising performance

"I'm hurting. The lads are hurting. We thought we'd turned a corner as we've been playing better, winning 4-0 and then playing well in the cup. But this is a setback.
"I'd never step on the pitch and allow the opposition to have more passion than me and it's the same for the others. We're wearing the shirt of West Ham and the one thing that matters is fighting for the badge.
"Maybe it didn't look like we did as we lost 4-0 but I can assure you we tried as best as we could but we were beaten by the better team."
Points: 24
Goal difference: -26
Form: DWLLW
Next six league games: Aston Villa (A), Fulham (H), Brighton (H), Leicester (A), Tottenham (A), West Ham (H)
Bournemouth were propping up the Premier League table when they beat Liverpool, despite Gary O'Neil's side having the worst record out of any top-flight side since the World Cup going into that game.
Pressure was mounting on O'Neil to deliver, with some of it coming from his own supporters. But a spirited defeat at Arsenal before humbling Jurgen Klopp's side on the south coast might have instilled a bit of confidence back into the Cherries.
But can Bournemouth turn those performances against the big sides against the lesser teams. Back-to-back home games against Fulham and Brighton stand out…
Billing emerging as Bournemouth's big-game player
Analysis from Sky Sports' Nick Wright:
Bournemouth had numerous candidates for the player-of-the-match award against Liverpool. Dango Ouattara was one. Marcos Senesi and Lloyd Kelly others. But Philip Billing had as strong a claim as anyone.
The Dane's goal, his second in a week after he struck inside 10 seconds against Arsenal, was clinically taken, albeit against an obliging Liverpool defence, and it was just one of many moments which caught the eye.
FREE TO WATCH: Highlights from Bournemouth's win against Liverpool in the Premier League

There were marauding runs, smart interceptions and well-timed tackles, the 26-year-old contributing at both ends of the pitch, and most striking of all, particularly in contrast to the sluggishness of Liverpool's midfielders, was the intensity with which he did it.
Billing only spent 69 minutes on the pitch before his second-half substitution, his early withdrawal a testament to how he had run himself into the ground in pursuit of victory, but Premier League tracking data showed he still made more high-intensity sprints (22) than anyone in Liverpool colours.
In fact, only one player on either side – Ouattara – beat his total. "We had to be diligent," said Billing in his post-match TV interview. He typified that diligence as much as anyone. How Liverpool would love to have a midfielder like him right now.
Nick Wright
Points: 23
Goal difference: -11
Form: LLWLD
Next six league games: Wolves (A), Arsenal (A), Nottingham Forest (H), Crystal Palace (H), Liverpool (H)*, Fulham (A)
* Live on Sky Sports
After finally finding a successor to Jesse Marsch at the umpteenth attempt, Javi Gracia provided Leeds with a minor 'new manager bounce' by beating Southampton.
But an FA Cup exit to Fulham, defeat at Graham Potter's Chelsea and a so-so draw with Brighton has put a pin in that balloon of positivity.
FREE TO WATCH: Highlights from the Premier League match between Leeds and Brighton

April looks to be a vital month for Gracia's side, with home matches against Nottingham Forest, Crystal Palace and Leicester along with a trip to Bournemouth on the agenda.
But what situation will Leeds be in by the time those games come around?
Gracia: Leeds need to finish off chances
Leeds manager Javi Gracia says his attacking players need to be better at finishing off chances in the wake of their 1-0 loss at Chelsea two weeks ago.
"The big problem is not creating chances. We need to improve the effectiveness to finish better, to be more clinical," he said. "The opponent had two or three clear chances but they scored one and we weren't able to.
"During the week in the FA Cup, we created 16 shots and had more clear chances, and didn't concede the chances we conceded today. It's something we have to improve.
"The goals are not only about the strikers, all the team has to collaborate in scoring."
Points: 22
Goal difference: -21
Form: WLWDL
Next six league games:, Tottenham (H), West Ham (A)*, Man City (A)*, Crystal Palace (H), Arsenal (A), Bournemouth (H)
* Live on Sky Sports
After finally removing the unpopular – and quite frankly entertaining – Nathan Jones as manager, Southampton have found some positive stability in Ruben Selles.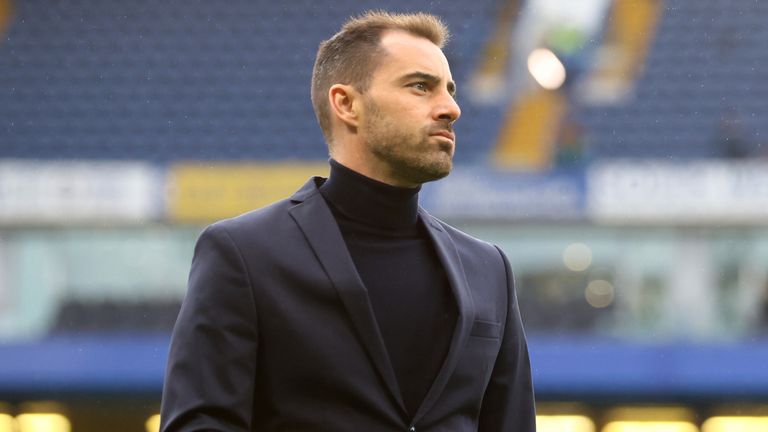 He has brought about victories against Chelsea and Leicester and a draw against at Manchester United – but defeats to Leeds and Brentford saw some similar traits to what got Ralph Hasenhuttl and then Jones the sack.
The Saints' upcoming fixtures do not look positive, with contests with the Premier League's top two and a game with Tottenham on the horizon.
But there are also matches against relegation rivals West Ham and Crystal Palace too. Victory in both not only helps the Saints' causes but drags the other two teams right into the mix.
Selles: Our dressing room good enough to stay up
Southampton manager Ruben Selles speaking before their recent 1-0 win over Leicester:
"We have to re-check our standards in everything that we do. We are learning and we are learning together, so that is our challenge. We have high standards.
Ruben Selles says the win against Leicester that moved his Southampton side off the bottom of the table is a turning point in their season

"The team and the dressing room is alive. In my situation I have to think about how I can help them and I will try to always keep in mind but something new always pops up every day, whether it's for the good or bad.
"You just need belief and we have to learn from every game. I still think the dressing room is good enough to stay in the Premier League."